"Breathing is the brain's highest priority to protect the survival of the human organism. The human body can withstand long periods without food and water but only minutes without oxygen."
Obstructive Sleep Apnea (OSA) is a serious, potentially life threatening sleep disorder. It owes its name to the Greek word ' apnea' meaning 'want of breath'. Patients with OSA have an increased risk of heart attack, stroke and high blood pressure and often display excessive daytime sleepiness that can result in serious accidents.
Excessive daytime sleepiness, a symptom of untreated sleep apnea is the number one cause of motor vehicle accidents in North America.  Obstructive Sleep Apnea is a medical condition where you stop breathing repeatedly when sleeping for 10 seconds or longer.  The diagnosis is made by a sleep physician after you have done an overnight sleep study in a lab.
To further explain, OSA is usually defined by interruptions in airflow of at least 10 sec (apnea) or by a decrease in airflow of at least 10 sec (hypopnea) associated with either an arousal (the brain briefly arouses people in order for them to resume breathing) or a blood oxygen desaturation.
We've become a society in which sleep is considered the one commodity that can be sacrificed to accomplish other task but without a restful sleep, the body is in a constant state of fight or flight.  It's under stress. Going night after night without sleep wreaks havoc on the cardiovascular system.  Sleep apnea appliances also have been linked to obesity and diabetes.
Patients with OSA can die.
Who does Obstructive Sleep Apnea Affect?
Snoring is the number one reason why bed partners sleep in separate rooms.  Obstructive sleep disorders affect everyone, men, women, and children.  Sleep apnea is a life-threatening disease  Snoring won't cause your death but it will hasten the onset of chronic diseases that will kill you.  An adequate amount of sleep will help you enhance your ability to learn, improve your memory, and help you make logical decisions and choices.  Dr. William Dement, a leading authority on sleep once said, 'You are not healthy unless your sleep is healthy.  Sleep is very closely linked to our cardiovascular health and maintaining normal blood pressure.
How we treat OSA at Mehan Dental
We treat sleep apnea with
oral appliance therapy
.  A simple, elegant device that is small enough to fit into the palm of your hand, custom-made to fit your mouth.  It is small, easy to clean, easy to wear, and durable.  No wires, no hoses, no noise, no plugs and is effortless to keep clean.
We use the Panthera D-SAD, Panthera X3, and the Somnodent appliances.  The Panthera is a nylon appliance.  It is extremely durable, and very small so there is minimal encroachment on your tongue and airway space and it's adjustable.  It is also a Canadian product.  The Somnodent is an acrylic appliance, that has been used in Canada for over 25 years, is made in the USA, and has an excellent track record.  Both are effective at managing your airway and controlling your snoring.
Advantages of Oral Appliances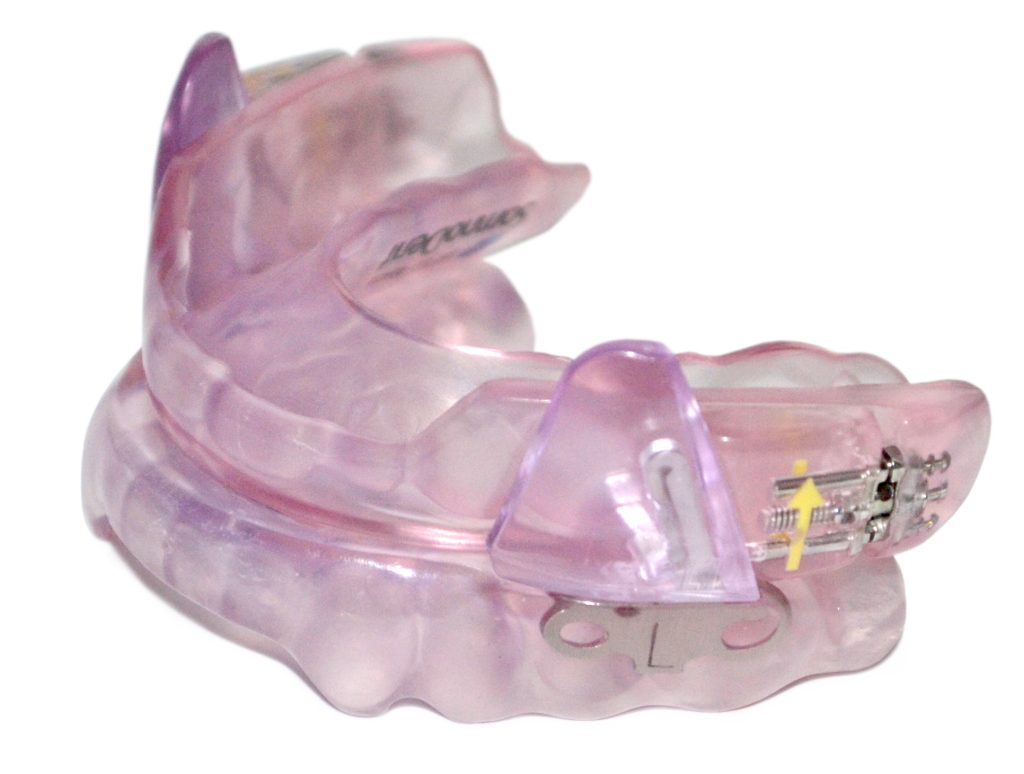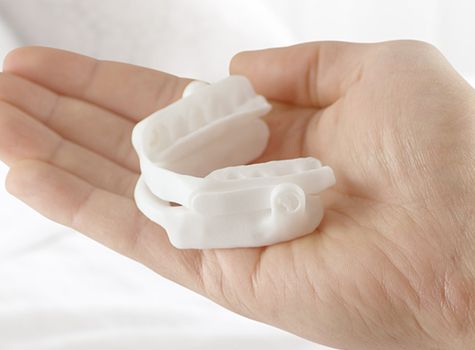 Drawbacks to OSA appliances:
No treatment is NOT an option!  Obstructive sleep apnea is a serious medical condition and small, temporary sacrifices can be made to allow the appliance to work.
Schedule a Sleep Consultation
When you schedule a sleep consultation with Dr. Mehan it will include the following:
 1 HOUR CONSULTATION IS THE FIRST STEP REQUIRED FOR SLEEP APNEA COMPLICATIONS.  A $140 FEE APPLIES, BUT IS CREDITED BACK SHOULD YOU MOVE FORWARD WITH ORAL APPLIANCE THERAPY.
Over the counter (OTC) treatment options:
A severe risk of using internet or OTC snoring device to treat sleep apnea is that the device might silence a noisy apneic, perhaps forever! Oral appliances that are not custom-made and do not fit well can become dislodged during the night and choke the wearer.
Our mandate is to work as a team with other practitioners, physicians, ENT's, pulmonologist and sleep centers – in the best possible way in the best interest of the patient. Sometimes a combination of oral appliance therapy and CPAP is the best option for a severe apneic patient. The oral appliance allows for lower air pressure on the CPAP thereby reducing the annoying effects of excessive drying of the eyes, nose etc. and the noise of the CPAP machine for your bed partner.
My patient John, came to see me regarding his poor sleep issues when he was 56 years old. He was very frustrated with waking up with headaches every morning, Feeling tired all the time Bed partner complained that he snored too loudly "I'm getting older and feeling more tired all the time, I know I'm going to die if I don't do something about my sleep, I can't drive long distances because I get too sleepy, I just want my life back…" After one week of using an oral appliance, John said, "I feel so different, I'm not snoring, no headaches in the mornings… I'm not afraid to go on long drives." "I'm going to tell all of my friends who can't use a CPAP to try this."
My 55 year old patient, Jeannie, came to our office 'desperately' seeking an alternative to CPAP. She was diagnosed with mild sleep apnea and a CPAP was recommended to her. Her prime concern was that her own snoring was so loud that it woke her up. One of her parents also has sleep apnea and she just felt that it was time for her to take care of herself 'before it's too late.' She has happily been wearing an oral appliance for 5 years, snoring is completely under control with the appliance. The appliance is "comfortable" and Jeannie says that she "wakes up before the alarm clock", "the mornings have been way easier that it used to be!"
John tried to use his CPAP and felt like he was pinned down with the machine. He is a 'mover when he sleeps' and also felt claustrophic with the mask. He actually had to rip the mask off of his face because he felt like he couldn't breathe. He also knows that he grinds his teeth when he sleeps. John was fitted with an oral appliance in 2016. John sleeps very comfortably every night now, and loves that one single appliance takes care of two problems. The appliance keeps his airway open all night long so he is able to breathe comfortably while he sleeps AND it protects his teeth from the harmful effects of teeth grinding.
David has COPD and has been diagnosed with moderate sleep apnea. He wakes up extremely tired. He valiantly tried his CPAP for 6 months and found it 'impossible' to use. He needs to get up frequently at night to use the bathroom so 'strapping myself to the machine' over and over again was a real problem. And, he was tired of waking up tired all the time. The very first morning after wearing his oral appliance David noticed that he wasn't gasping to breathe any more, he woke up feeling more alert, doesn't feel like he's 'nodding off in the afternoon' anymore, and also loves the flexibility of being able to get up at night to get a drink of water if he wishes. He has been faithfully wearing the appliance every night for 7 years now. "I know it's working for me and I can't sleep without it"
A 60 year old patient recently reported on her first follow up visit: "I can't believe how easy it is…there is no more snoring…my husband is sleeping in the same bed again…I have more energy…I don't need naps anymore…before I tried to walk 2 or 3X a week, now I can go for walks twice a day…they should retire the CPAP machine."
For many years I have felt exhausted! My doctor suggested a sleep study and the results showed I didn't need a CPAP but an oral appliance would really help me. I contacted Dr. Mehan's office and am so glad I did. The RESMED device works amazing. It is easy to wear and keep clean. I sleep so much sounder at nights and wake up much more refreshed. I am not as weary during the daytime. If I don't wear it I sure notice a difference now. Thanks for assisting me in getting a better night's rest leading to a more productive day. Awesome!
I use the Somnodent sleep appliance. For years I did not sleep regularly or through the night, not knowing that I had sleep apnea. After having a sleep test and seeing a sleep doctor, I chose to try a dental appliance instead of a sleep machine. The results have been FANTASTIC. My wife never was able to sleep through the night due to my snoring. Since using the Somnodent, she has lost no sleep as I do not snore anymore. I sleep through the night and am no longer tired through the day. My health is better and my energy has increased. Device can be taken anywhere, is easy to use. Dr. Mehan has been great throughout the process. I have suggested it to friends and would recommend it to everyone.
I have struggled with loud snoring and sleep apnea for a number of years. Tried a CPAP machine and wasn't able to fitted with a mask that did not leak. I was then advised to try the Somnomed. Immediately the snoring stopped. I haven't missed a night wearing it and find I am not as tired in the morning. I am highly satisfied and would recommend anyone to try it! Thank you to Dr. Mehan and staff.